John Protect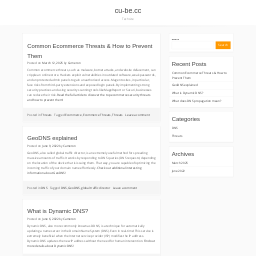 98 Days
cu-be.cc
item has less then 1 vote
Have you invested in this program? Please rate it!
CU-BE LLC is engaged effective connecting tool provision for both private investors and perspective investment projects.
Our goal is to provide each investor with a chance to get a stable passive income as well as to minimize risks and develop perspective projects through private investment. Our team consists of highly-experienced professionals, analysts and managers, being ready to provide their customers with all possible tools and guarantees for fruitful cooperation.
Startups and rapidly developing perspective projects were chosen as the investment interest, since the current investments area in recent years has proven itself to be less risky and maximally profitable. Our platform focuses on startups in the Hitech, nano technology and IT. Besides the company is engaged in short-term loans provision to private businesses only, which provides additional platform stability guarantees. CU-BE LLC managed to build a new interaction system in investment activities. Our customers are entitled to make payments from anywhere in the world in just few seconds due to blockchain technology and electronic payment systems. In addition, such payment systems are today recognized as the most reliable and stable.
John Protect
cu-be.cc synopsis
cu-be.cc Video Review Analysis from Investors-Protect.com
cu-be.cc Video Review Analysis from Investors-Protect.com
2021-01-28
PLANS: 1% Daily for 10 Days, 1.1% Daily for 20 Days, 1.2% Daily for 30 Days, etc
MIN INVESTMENT: $10
WITHDRAWAL: Manual
SECURITY: SSL&nbsp-&nbspDDOS
SCRIPT: GC Licensed
DESIGN: Unique design
PAYMENT PROCESSORS:
LAST PAYOUT: 28 February 2021 (Graspgold)
ALEXA GLOBAL RANK: 123570
MONITORS: 2
DEPOSITS
Total: $5,399.00
Today: $110.00&nbsp&nbsp&nbsp&nbsp&nbspYesterday: $0.00
REFERRAL COMMISSION
Total: $390.22
Today: $7.30&nbsp&nbsp&nbsp&nbsp&nbspYesterday: $0.00
&nbsp
DISCLAIMER: We do not own or promote any programs listed here. The information provided here is for your own use.
Some programs, investments or any listings here may be illegal depending on your country's laws.
REMEMBER! Never spend what you cannot afford to lose.