John Protect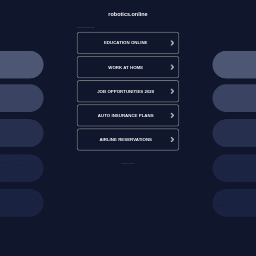 670 Days
robotics.online
robotics.online
Rated
4.5
/
5
based on
2
customer reviews
Have you invested in this program? Please rate it!
Robotics.Online LLC is an American company whose owner-managed team has set the task of putting together a state-of-the-art investment portfolio with extremely lucrative returns.

Trend-setting and with the most advanced investment methods, we invest in a combination of cryptocurrencies, professional ICOs, promising startups, and also in the field of "Robotics" - our core competence. We are all already in the middle of the age of digitization and process automation. This revolutionary era offers fantastic prospects for us as an investment company, and for you as an investor. It is precisely here that we build and invest in reliable companies in this industry to generate high but steady returns, pushing the world a little faster into the future.
John Protect
robotics.online synopsis
PLANS: variable returns of up to 0.5% for 12 business days, reinvestment bonuses of up to 90%, principal back.
MIN INVESTMENT: $50 - MAX INVESTMENT: No limit
WITHDRAWAL: Manual
SECURITY: SSL&nbsp-&nbspStrong DDOS
SCRIPT: Custom script
DESIGN: Unique design
PAYMENT PROCESSORS:
LAST PAYOUT: 19 January 2022 (EmilyNews)
ALEXA GLOBAL RANK: 39740
MONITORS: 13
DEPOSITS
Total: $13,916.00
Today: $0.00&nbsp&nbsp&nbsp&nbsp&nbspYesterday: $0.00
REFERRAL COMMISSION
Total: $2,404.37
Today: $0.00&nbsp&nbsp&nbsp&nbsp&nbspYesterday: $0.00
&nbsp
DISCLAIMER: We do not own or promote any programs listed here. The information provided here is for your own use.
Some programs, investments or any listings here may be illegal depending on your country's laws.
REMEMBER! Never spend what you cannot afford to lose.